Lithium stearate is a white soft solid, prepared by the reaction of lithium hydroxide and stearic acid. Lithium stearate and lithium 12-hydroxystearate are lithium soaps and are components of lithium greases and release agents.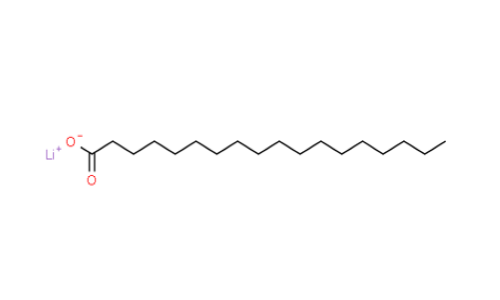 | | |
| --- | --- |
| CAS Number: | 4485-12-5 |
| UN Number: | None |
| | |
| --- | --- |
| Hazard Class: | None |
| Packing Group: | None |
What is lithium stearate used for?
Lithium stearate has numerous uses, but is primarily used as a lubricant and can be effective at both lower and higher temperatures. As a result, the compound is typically used in the cosmetics and plastics industries where it serves as a stabiliser.
---
Anti-corrosion and anti-rust properties of lithium stearate
It can also aid in the fusing of metals through welding or soldering. The lithium stearate serves as a flux and eliminates the formation of any oxides for clean fusions of metals. The lithium soaps have strong anti-corrosion and rust properties. It also serves as a corrosion inhibitor in petroleum.
---
High melting point of lithium stearate
Lithium stearate has a melting point of 220°C, it is more resistant to a drop in consistency as opposed to sodium and potassium soaps, which have a melting point around 22°C. This makes lithium stearate ideal for higher temperature applications, where it serves as lubrication and is more resistant to being broken down. In addition to boosting the elasticity of microcrystalline waxes, it also raises its melting point. Due to these qualities, lithium stearate is often used in the automotive, aircraft and heavy machinery industries.
Physical properties of Lithium Stearate
Physical State:
Powder solid
Odor:
No information available
Odor Threshold:
No information available
pH:
No information available
Melting Point / Range:
220 °C / 428 °F
Boiling Point / Range:
No information available
Molecular Formula:
C18 H35 Li O2
Safety profile of lithium stearate
Low toxicity by ingestion.
Lithium stearate can spontaneously combust and can emit toxic lithium vapours when heated to decomposition
IF YOU WANT TO LEARN MORE ABOUT HOW EAST HARBOUR GROUP LTD. CAN HELP YOUR BUSINESS, GET IN TOUCH.